Born on 13. 7. 1883 in Ljubljana as the third of the four children of father Janez and mother Marijana Kern.
Smrekar attended primary school and gymnasium in Ljubljana where he was always one of the best pupils.
On 11. 7. 1901 he completed his Matura examinations with honours. He wanted to study medicine but due to circumstances he chose to study law in Innsbruck instead (1901–1902).
Between 1901 and 1914, he illustrated for the magazine Dom in svet (Home and World).
In autumn 1902, he continued with his law studies in Vienna and was the recipient of a scholarship by from the Krašković Foundation and the Knafelj Scholarship, the oldest and most prestigious scholarship for Carniolan students.
Between 1902 and 1903, Smrekar contributed to the satirical paper Jež (The Hedgehog).
In 1904, Smrekar's law school stipend was suspended due to his health issues. He was diagnosed with nervous exhaustion. One day before the state examination, Smrekar supposedly sold all of his study books, drank away the proceeds and stepped on the artistic path.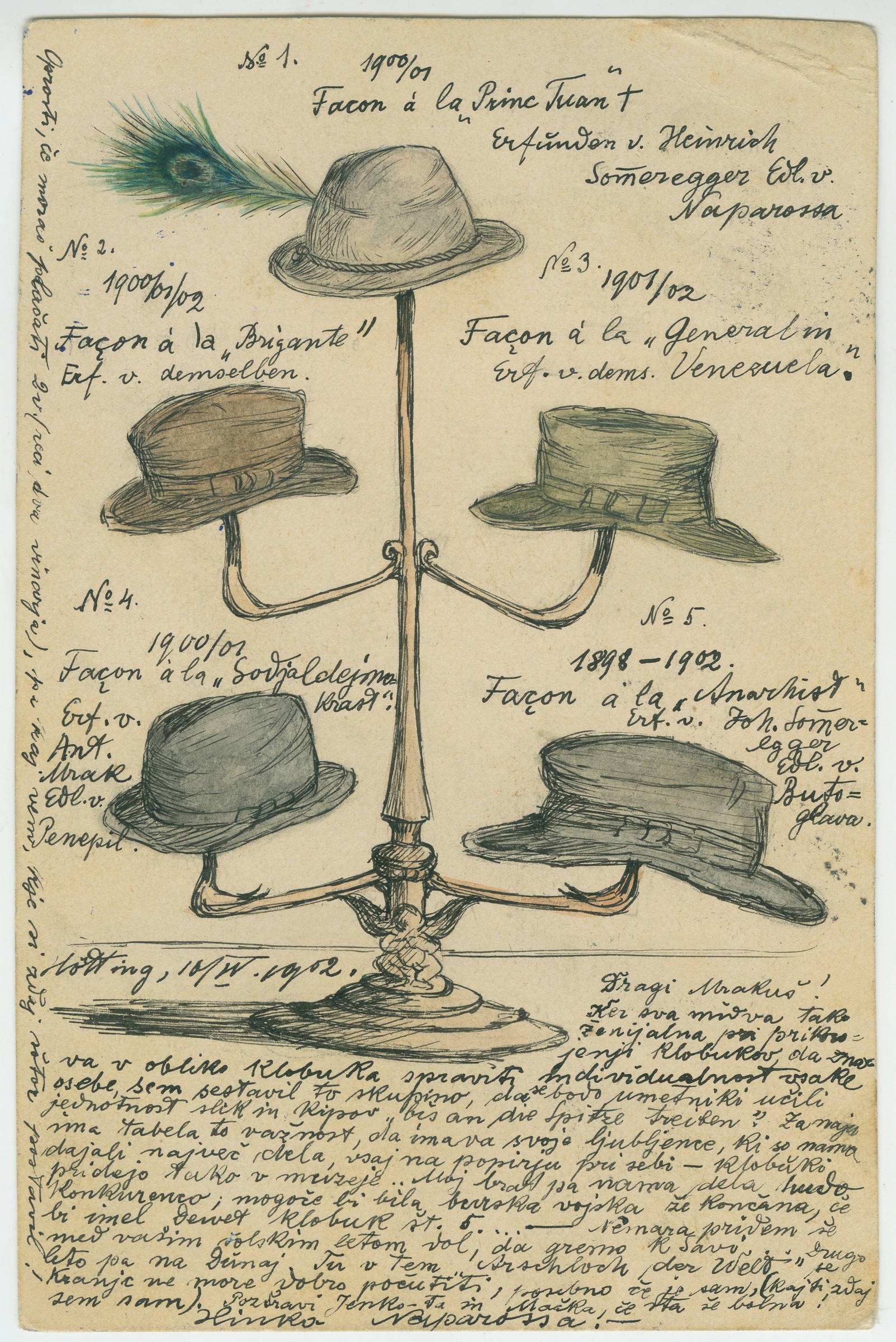 Hat Stand, 1902, National Gallery of Slovenia
On 28. 9. 1904, he entered a class of freehand drawing at the Museum of Art and Crafts in Vienna. He attended anatomy and technical drawing classes.
Between 1904 and 1914, Smrekar lived in Vienna, travelled to Munich (in 1905, 1907 and 1911) and regularly came back to Ljubljana and especially Kranj, where his family lived from 1904 onwards. In 1909, his father Janez died and in 1911 his brother Pavle.
In 1904, Smrekar probably joined the Vesna Art Club. A group of Slovenian and Croatian artists living in Vienna decided to serve their people by creating authentically Slovenian and Croatian art.
In 1904, Smrekar met Ivan Cankar. The first front cover page he made for the writer dates from that year (Madame Judith); by 1913 he had illustrated another six of Cankar's books.
Between 1904 and 1913, he drew more than 50 portraits and caricatures, first of his schoolmates and friends, and then of the most visible representatives of the arts – artists, literati, composers and also political leaders.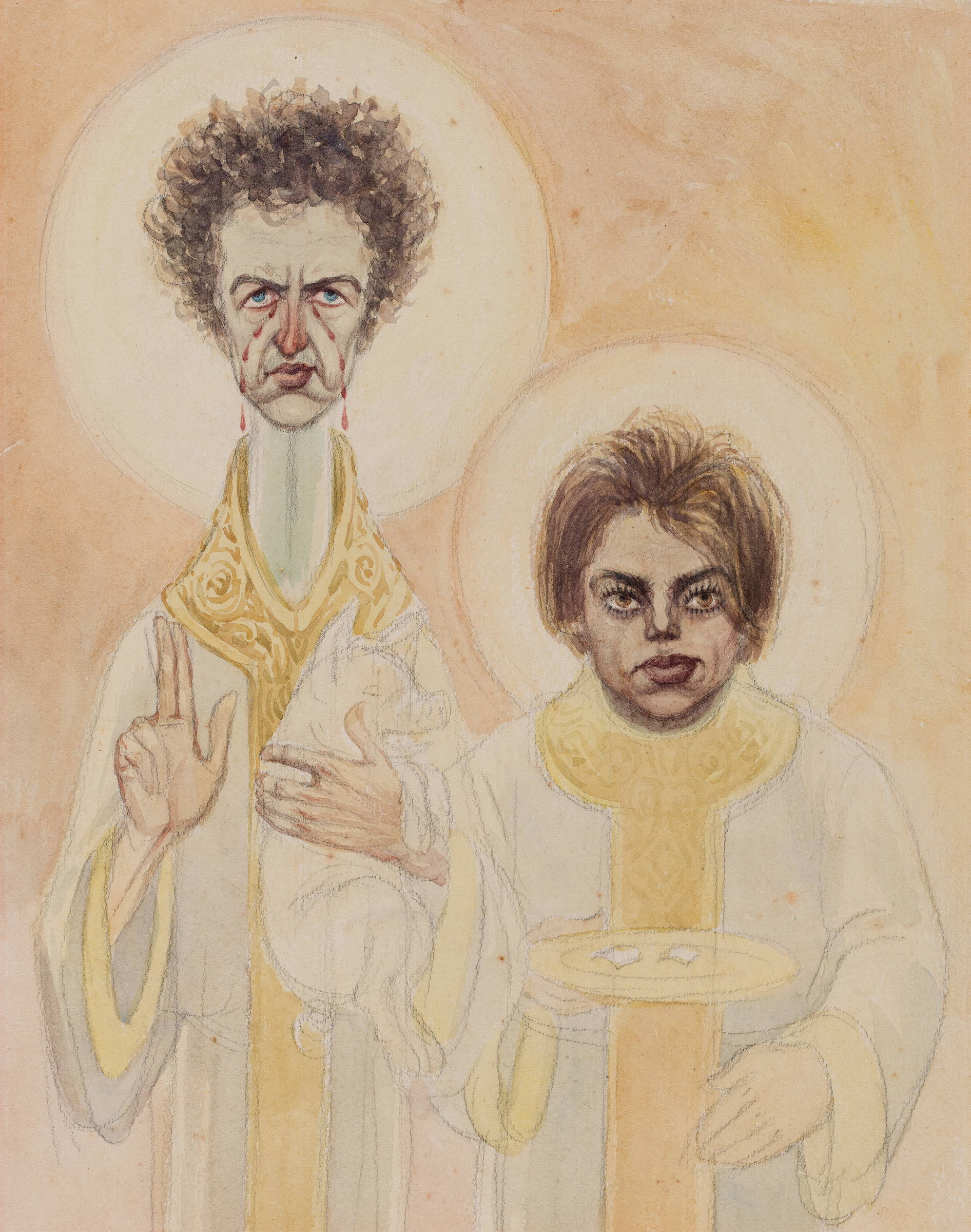 Hinko Smrekar and Lojze Dolinar as Saints, (c. 1911), National Gallery of Slovenia
In 1905, Ivan Cankar wrote The Story of the Long Nose in which he based the caricatured character on Smrekar. From then on, Smrekar drew himself with a long, floppy and runny nose, while the oldest known caricatures of Ivan Cankar date to 1909.
Between 1905 and 1906, he contributed to the satirical paper Osa (The Wasp).
In 1909, he began working with the Slovenian Mountaineering Society (front cover page for its gazette).
In 1910–1911, he received a commission to prepare illustrations for the Slavic Playing Cards and Tarock from the First Slavic Playing Cards Factory in Ljubljana. On 14.8.1916, the cards were banned by the decree of the Imperial-Royal Police Directorate in Ljubljana.
Smrekar's critique of the petit-bourgeoisie society and its attitude towards art reached a climax around 1910 when he drew the satirical Slovenian Art Exhibition.
In 1911, the publisher Bamberg commissioned Smrekar to prepare illustrations for the Literary Almanach for 1914, which was Smrekar's largest ever illustration consignment.
In 1911, he moved to Ljubljana, followed by his mother in 1914. Together they lived in Lower Šiška in the Burger's House at Celovška cesta 27 until his mother's death in 1927.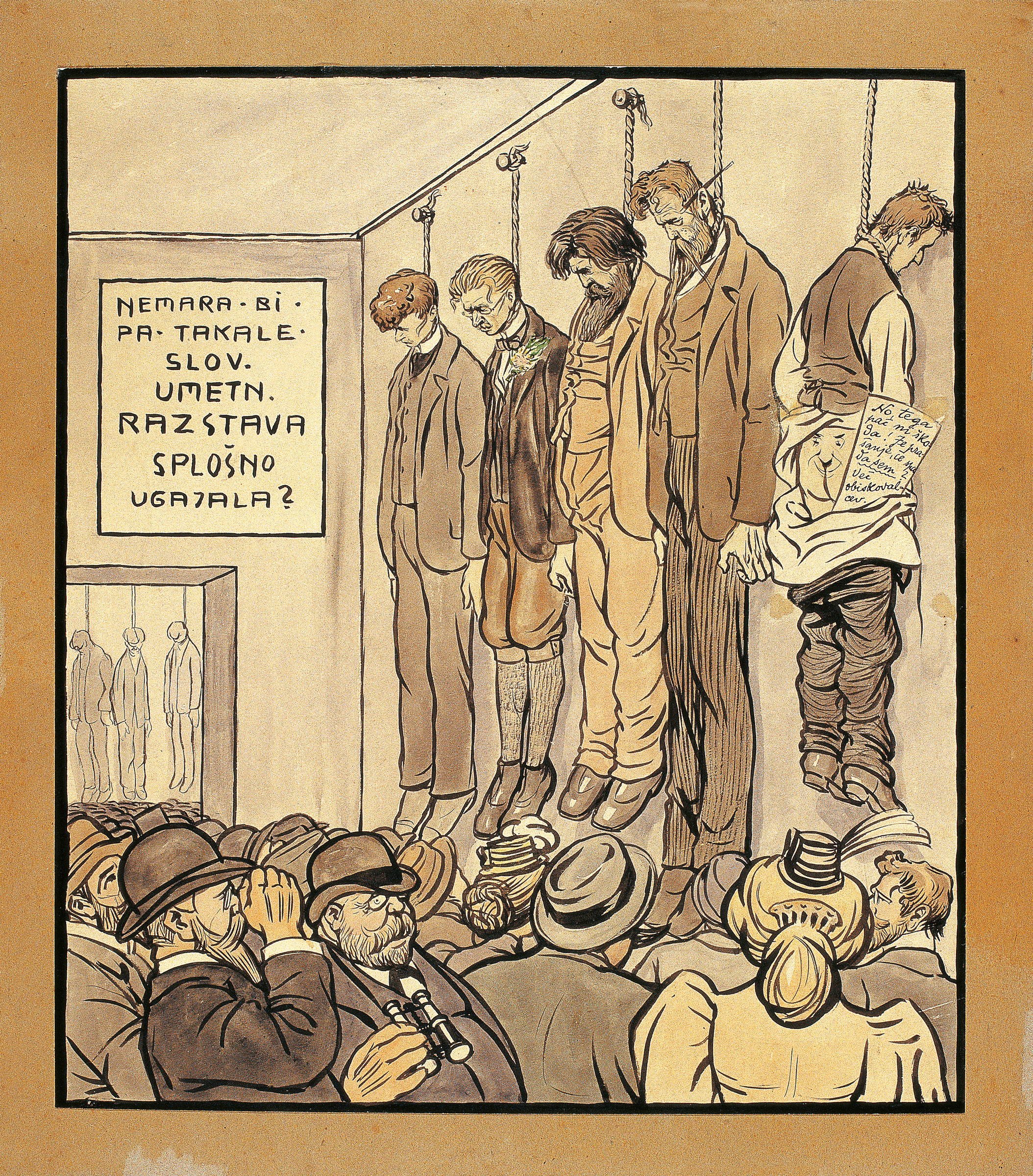 Slovenian Art Exhibition, (c. 1910), National Gallery of Slovenia
In 1913, Smrekar exhibited two drawings High Traitors and Their Persecutors in Caricature in the shop window of the publisher Schwenter with a note saying "for consideration to responsible factors". The caricatures were removed the day after their exhibition.
1913: Smrekar made six postcards with motifs taken from Slovenian national songs, published by Bamberg, Ljubljana.
1913: Smrekar accepted an invitation from the Serbian Royal Academy to prepare illustrations and decoration accompanying the collection Srpske narodne junačke pesme (Serbian National Heroic Poems). Due to the war, the work was only published in 1922 in diminished scope, together with Smrekar's illustrations for the poem Margita devojka i Rajko vojvoda (Margita the Maiden and Rajko the Duke).
Smrekar was one of the founders of print art in Slovenia. The earliest graphic prints date to 1913–1915.
Between 1914 and 1915, he created 38 illustrations for the propaganda magazine Svetovna vojska (World War).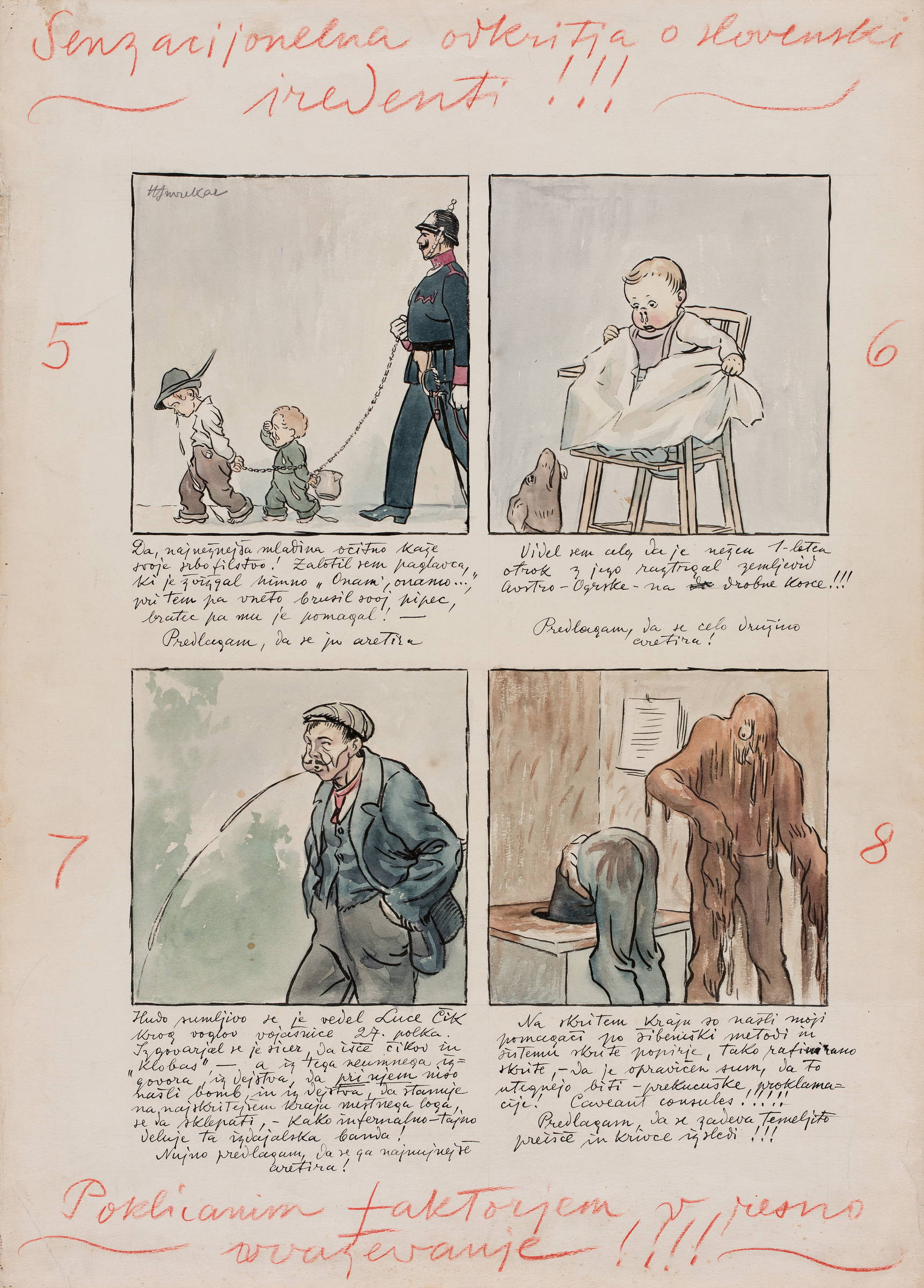 High Traitors and Their Persecutors in Caricature, (1913), National Gallery of Slovenia
On 15. 2. 1915, Smrekar was conscribed into a reserve unit but managed to evade military service.
On 3. 8. 1915, following an anonymous complaint addressed to the Royal and Imperial Command in Graz, Smrekar was arrested and taken to different camps (Wagna near Leibnitz, Enzersdorf, Mittergrabern), then to Judenburg due to another military conscription, and lastly to the hospital sanatorium in Scheifling.
In Scheifling Smrekar was diagnosed with anaemia and general physical weakness. On 28. 1. 1916, due to his nerves, he was taken for an additional examination to the mental illness observatory in the garrison hospital, Graz where he was detained for six weeks.
On 15. 4. 1916, after prolonged and arduous observations and examinations, he was declared utterly incapable of military service; Smrekar's madness was thought to be feigned.
In 1917, he wrote down and drew his memories of this episode of his life in the booklet Henrik Smrekar ‒ črnovojnik (Henrik Smrekar – Landsturm Soldier), which was published only after the war in 1919; the booklet is considered the prototype of Slovenian comic books.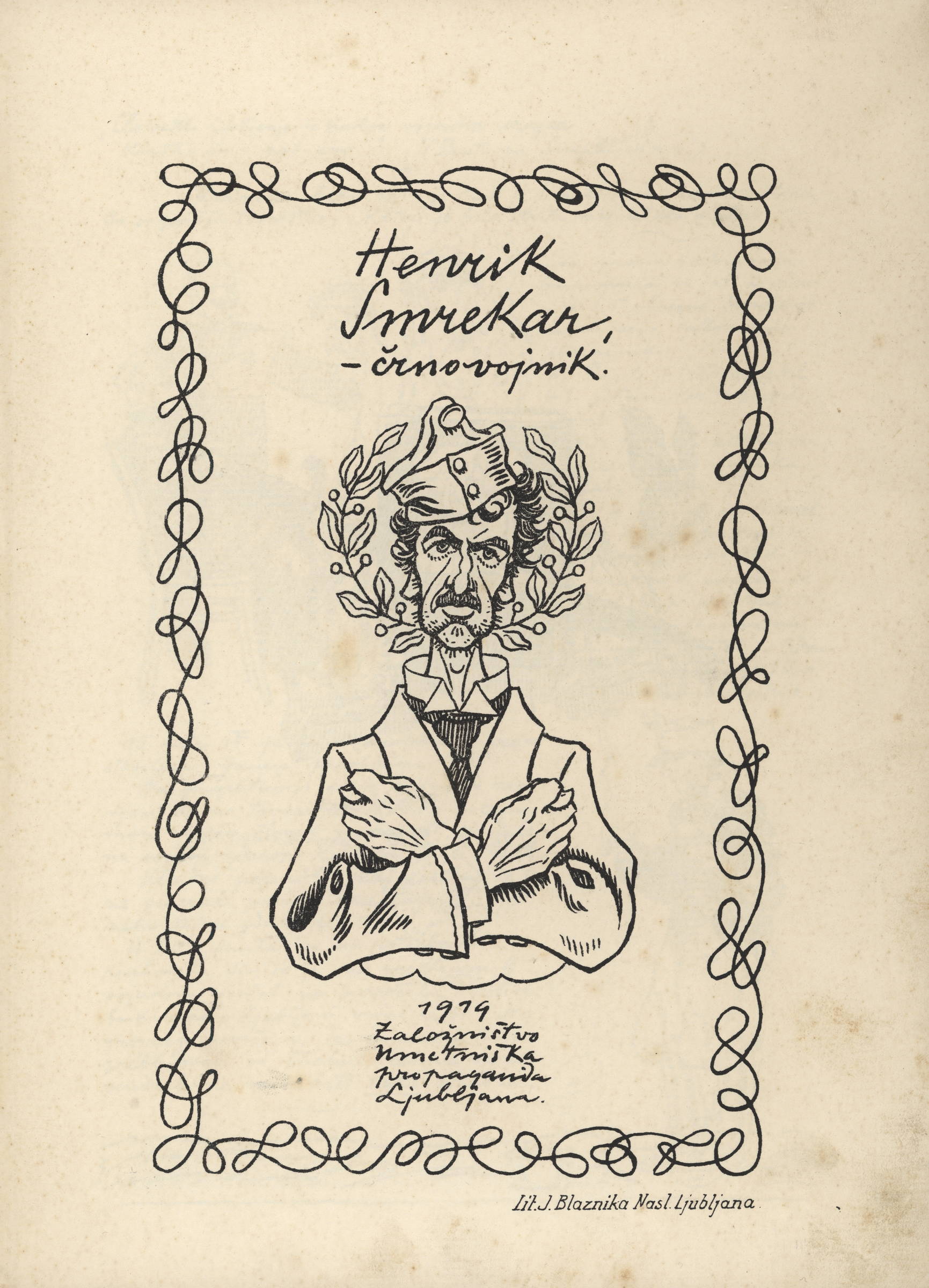 Front Cover Page for Henrik Smrekar - črnovojnik, (1917-1919), location unknown
In 1917, he created the front cover page and 12 illustrations for the story Martin Krpan by Fran Levstik.
Between 1918‒1919, he contributed to the satirical paper Kurent.
1919: Postcards with pronounced anti-capitalist and anti-militarist messages
In 1919, he participated in the Yugoslavian exhibition in the Petit Palais in Paris.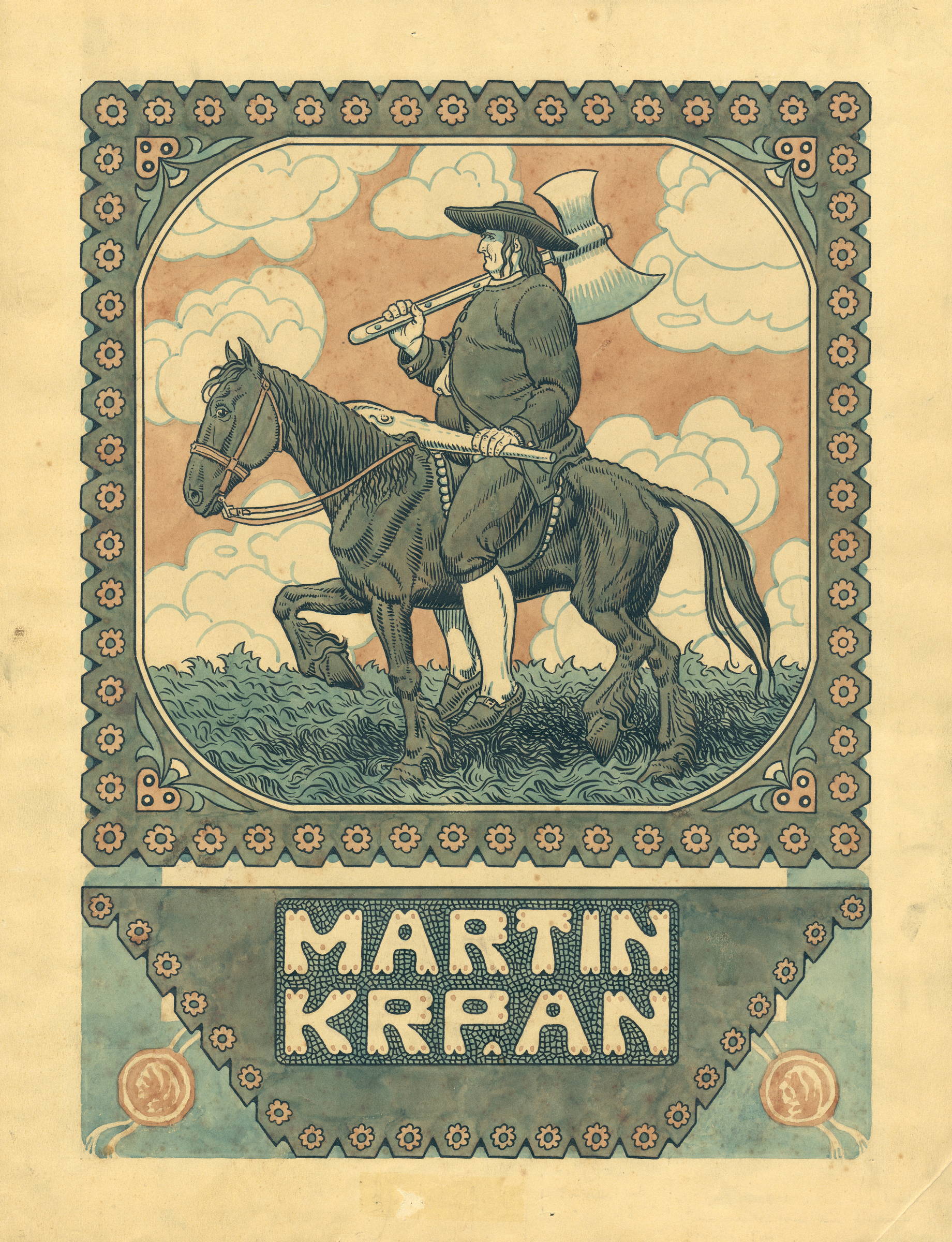 The Front Cover Page for Martin Krpan. (1917), Miran Jarc Library, Novo mesto
1920‒1925: Creative quiescence due to illness and treatments in different health resorts (Ljubljana, Laßnitzhöhe near Graz, Bled, Topolšica near Šoštanj, Mariagrün in Kroisbach near Graz, Wörishofen and Dobrna).
1925: First two works after five years, both prints, the etching The Idyll and the first lithography in his oeuvre called Genius of Pleasant Dreams.
In 1925, he also participated in the exhibition of decorative arts, held in the Pavilion of the Kingdom of Serbs, Croats and Slovenes, Paris.
1925: Smrekar bought a plot of land in Šiška, Ljubljana where he decided to build a house with a studio. In February 1927, after all the twists and turns connected to the construction, he moved into his studio with a doorway, naming his house Vila Kurnik (Villa Henhouse).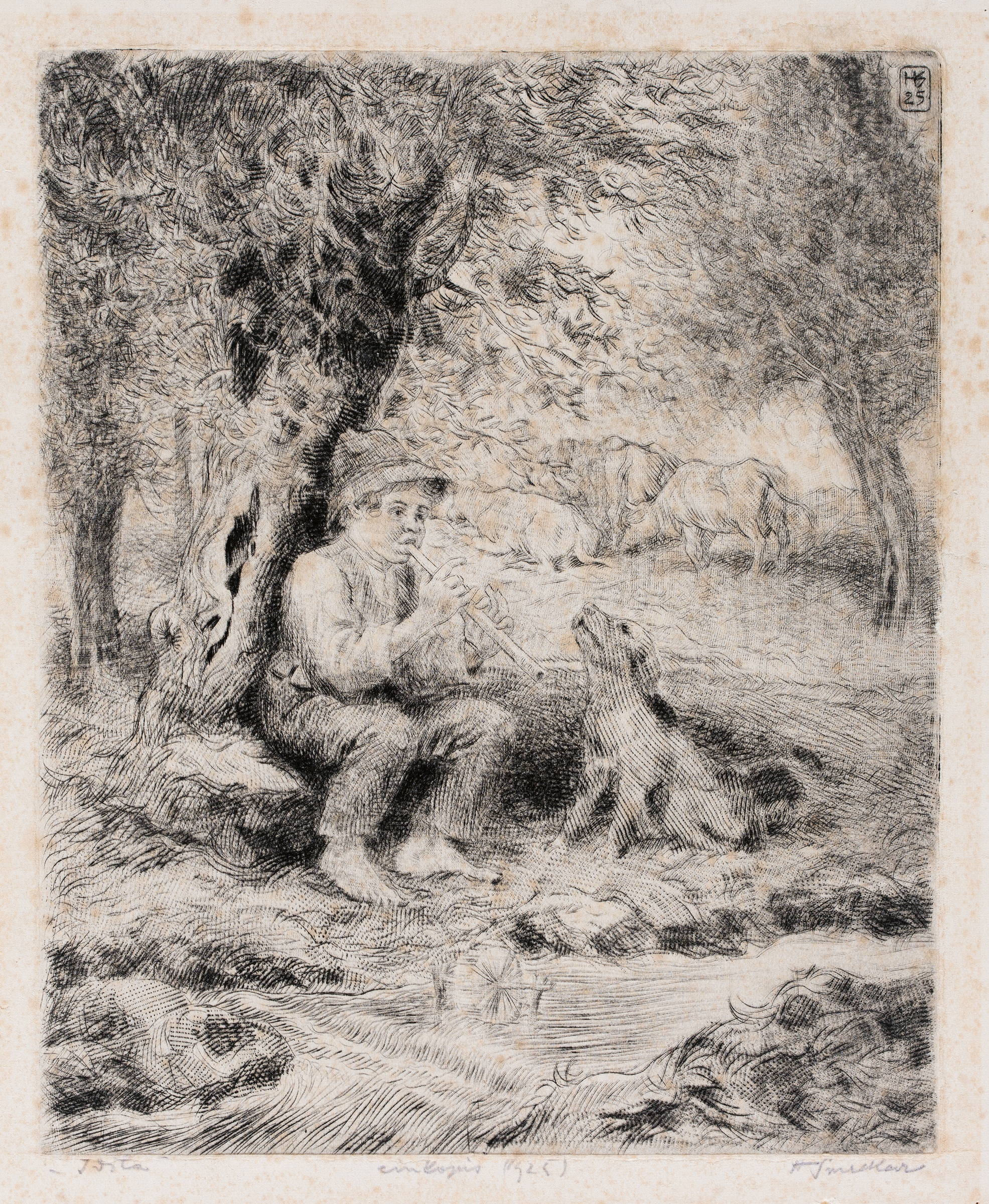 The Idyll, 1925, National Gallery of Slovenia
1926‒1929: Caricatures and satires for Ilustrirani Slovenec (The Illustrated Slovenian), weekly addition to the newspaper Slovenec (The Slovenian)
After 1926, Smrekar started to work in oil paint, with more works from 1939 onwards.
1. 1. 1927: Death of his mother.
1927: Became Vice-President of the Society of Print-Artists of Yugoslavia.
1927: Woodcut cycle The Seven Deadly Sins
Between 1927 and 1931, he worked with the Zagreb comedy-satire paper Koprive (Nettles) and contributed over 70 satires and caricatures with his own captions.
1928‒1929: Illustrations for Vodnikova pratika (Vodnik's Almanach), Koledar Družbe sv. Mohorja (Calendar for the Society of St Hermagoras) and Mladika (The Shoot)
From 1929 onwards, contributed to the magazine Naš rod (Our Kind), Odmevi (Echos), Misijonski koledar (Missionary Calendar).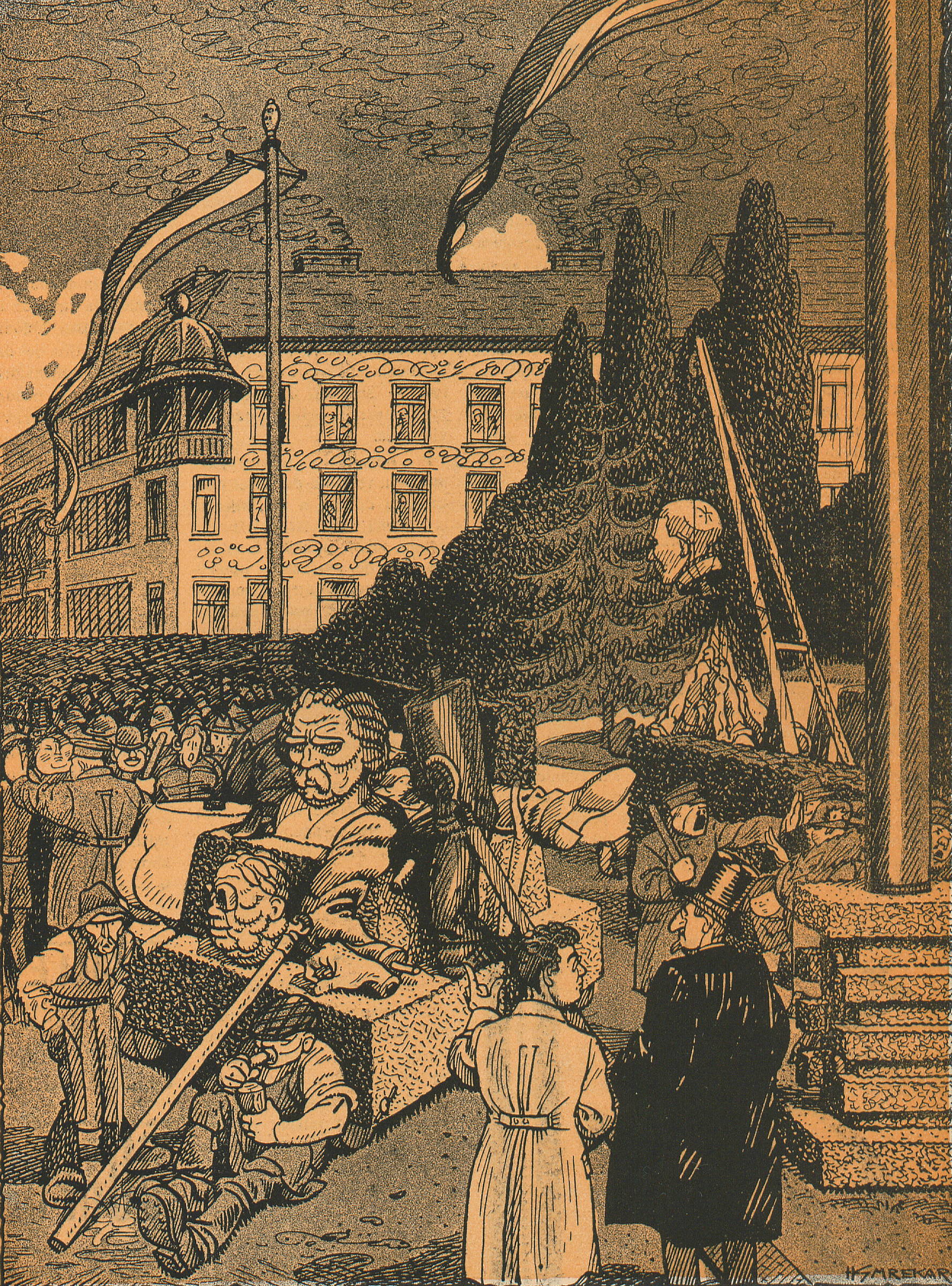 Ljubljana Monuments à la "The Matador", (1927), Koprive, 1927, location unknown
1932: First solo exhibition at Salon Schira in Zagreb
1933: Worked in ceramics for the Dekor factory in Ljubljana
1933: Cycle The Mirror of the World
From 1933 onwards, Smrekar drew front and inner cover pages for the magazine Življenje in svet (Life and World).
1934‒1935: On the instigation of Dr Fran Windischer, Smrekar received support from the poverty fund of the Drava Banovina in return for a voluntary internship at the National Gallery, which he did not have to do in the end.
1935‒1939: Illustrations for books: Ptički brez gnezda (Nest-less Little Birds) by Fran Milčinski, Sto basni za otroke (One Hundred Fables for Children), Beli bratec (Little White Brother) by Marija Jezernik, Grajski vrabec (The Castle Sparrow) by Davorin Ravljen, Satire (Satires) by Gustav Strniša, history reader Iz starih in novih časov (From Old and Recent Times) by Vlado Klemenčič, Na razpotju (On the Crossroads) by Griša Koritnik and Zadružni koledar (The Cooperative Calendar).
1937: Convalescing in the psychiatric hospital in Studenec, a sketch book with drawings of patients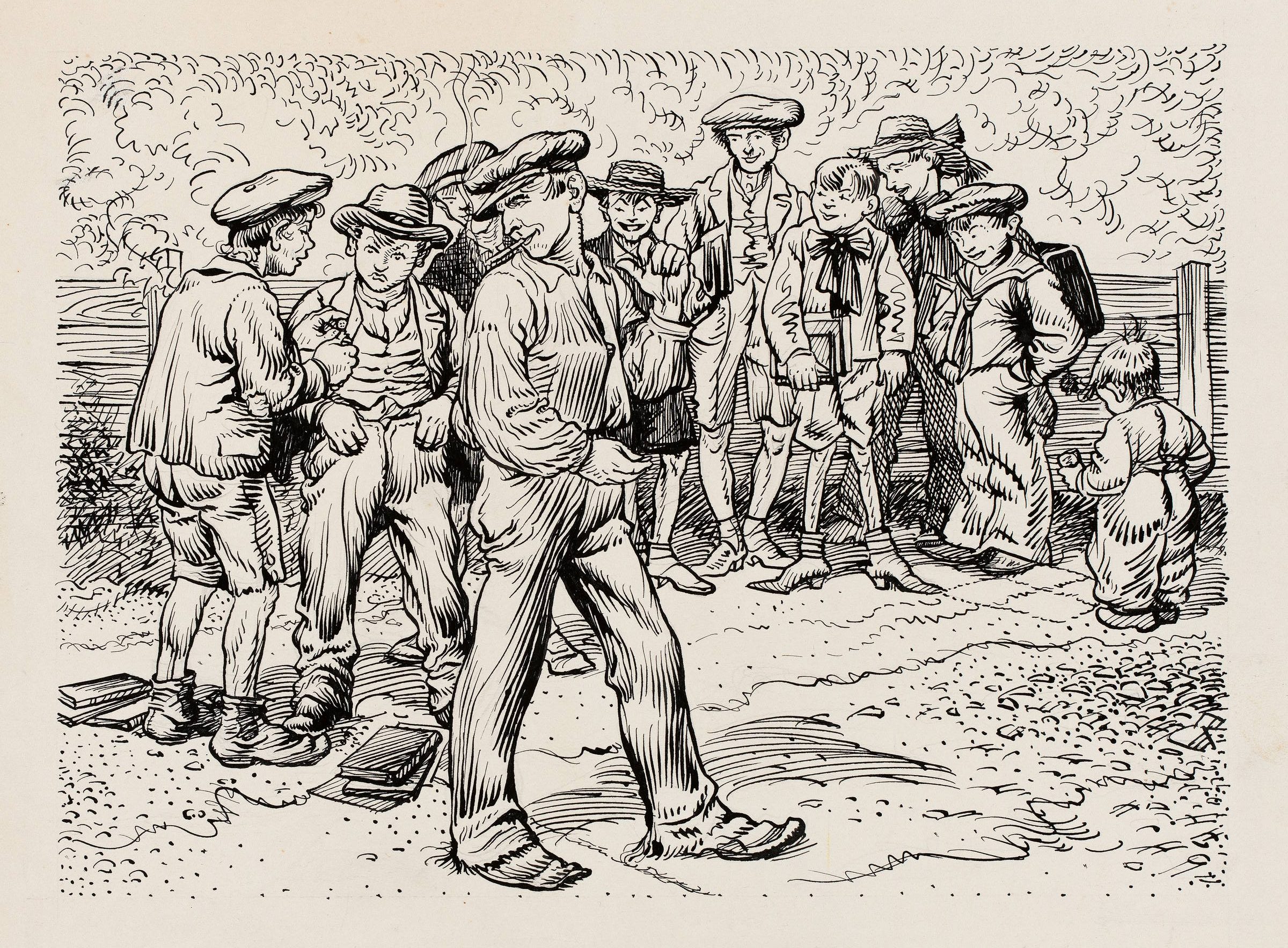 Stanko and Likar Cut Off Little Tone's Buttons, (1935–1937), Ptički brez gnezda, National Gallery of Slovenia
1938‒1939: Satires and caricatures of the magazine Posebna izdaja (Special Edition)
1938‒1939: Participated in the competition to decorate the grand hallway of the Banovina Palace in Ljubljana
1940‒1942: Illustrations for the Vrtec magazine (Kindergarten)
1940: Images of France Prešeren; the series of caricatures of Prešeren was a response to the mass search for Prešeren's true likeness.
1940: Illustrations for the book Sedem Andersenovih pravljic za šegave modrijane in modrijančke (Seven Fairy Tales by Andersen for the Waggish and Shrewd Old and Young); Smrekar used them to draw attention to the horrors of the world war and to the Fascist violence; he self-published the book.
1941: Illustrations for the comedy collection Zaplankarji (Hillbillies) by Joža Vovk
In 1941, Smrekar started to make sculptures.
1941: Independent exhibition at the Obersnel Gallery in Ljubljana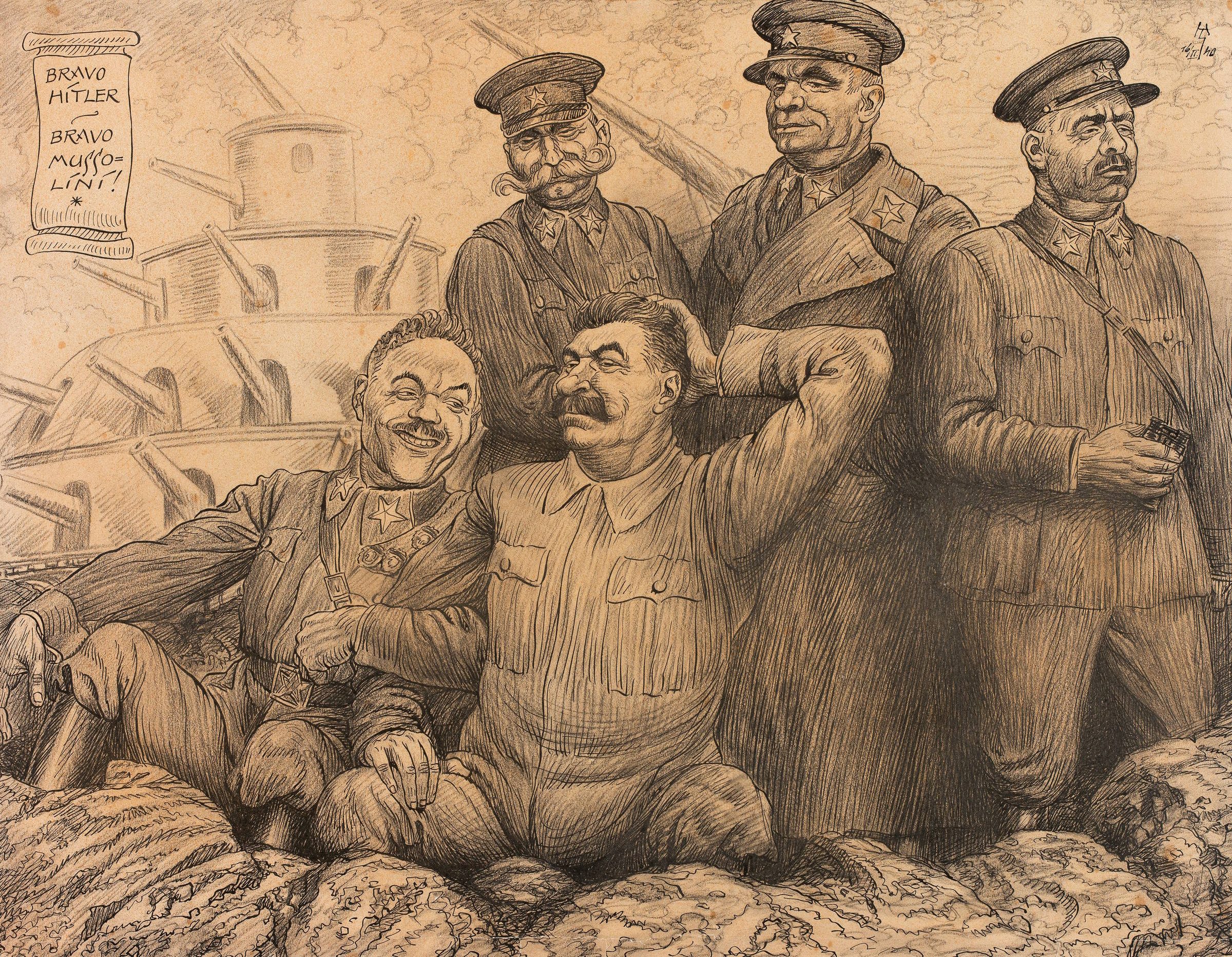 Bravo Hitler, Bravo Mussolini!, 1940, National Gallery of Slovenia
On 30. 9. 1942, an Italian Fascist patrol arrested him near Villa Henhouse because they found the resistance paper Radio Vestnik on him.
1. 10. 1942: Smrekar was taken to Gramozna jama in Ljubljana and shot without trial.
Author: dr. Alenka Simončič, 2022